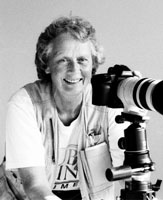 Photo by Meredith Stout
Eleanor Briccetti's passion for nature photography stems from a love of wildlife, the outdoors, and birdwatching. Some of her favorite haunts include:
San Francisco Bay shoreline
Palo Alto Baylands Preserve
Sacramento and Klamath National Wildlife Refuges
The Grand Tetons
The Palouse area of Southeast Washington
Yellowstone National Park
The San Francisco Bay Area became home in 1994, following a move from Indianapolis, where Eleanor enjoyed a busy career as a professional violinist. She was a member of the orchestras of Kansas City, Indianapolis, and St. Louis, was an active chamber music performer, ran a program for young violinists and cellists, and taught violin privately. Her interest in photography began as a young girl, undoubtedly influenced by her father, an avid amateur photographer.
Eleanor's works have been displayed at:
The Holiday Park Nature Center in Indianapolis
The University of Indianapolis
Portland State University
Sea Ranch Lodge and Gualala Arts Center on the Northern California coast
Several Bay Area locations:

Bocanova Restaurant
Albany Arts Gallery
Berkeley Store Gallery
Los Medanos College
Don Edwards San Francisco Bay National Wildlife Refuge
Hayward Shoreline Interpretive Center
She is a member of Bay Area Bird Photographers and North American Nature Photographers Association. Publications include:
National Audubon Magazine
Birder's World
Wildlife Refuge Magazine
American Bird Conservancy Magazine
Wildbird
Grit Magazine
Eldr Magazine
Outdoor California Magazine
Bay Nature
Sierra Club
Yodeler Magazine
Family News
Children's Community Center 1999 and 2000 Yearbooks
University of Indianapolis Alumni Magazine
In 2001 she was a Merit Award Winner in National Wildlife's 31st annual photography competition, received an Honorable Mention in the 2003 Birder's World photo contest, and won 2nd place in the international category of Wildbird's 2005 photo contest. Eleanor was a winner in the North American Nature Photographers Association Member Showcase competition, and her image will be published in the Association's 2010 Expressions magazine. She also won a photography award in National Audubon Society's first-ever photo competition.